No matter if you are a wheel throwing beginner, advanced handbuilder or somethng in between, we offer space for everyone.
At The Clay Company you're in the right place if you're interested in creating your own pottery pieces, trying your hand on the wheel or participating in all things ceramic.

In our community studio we offer space for anyone who has the desire to work with clay. Whether you are a beginner or an advanced potter, you will fit right in. If you are still at the start of your ceramic journey, our pottery workshops might be a good first step into the community. If you already have experience with clay, you can start with your membership right away.


We are looking forward to welcome you in the studio!
Tanja & Lea
The Ceramic Community Club celebrates its
Grand Opening
1st of April from 1pm
Come celebrate with us!
Or visit the studio in our opening week 1st of April - 7th of April
12am - 8pm

Wielandstr. 52, 40211 Düsseldorf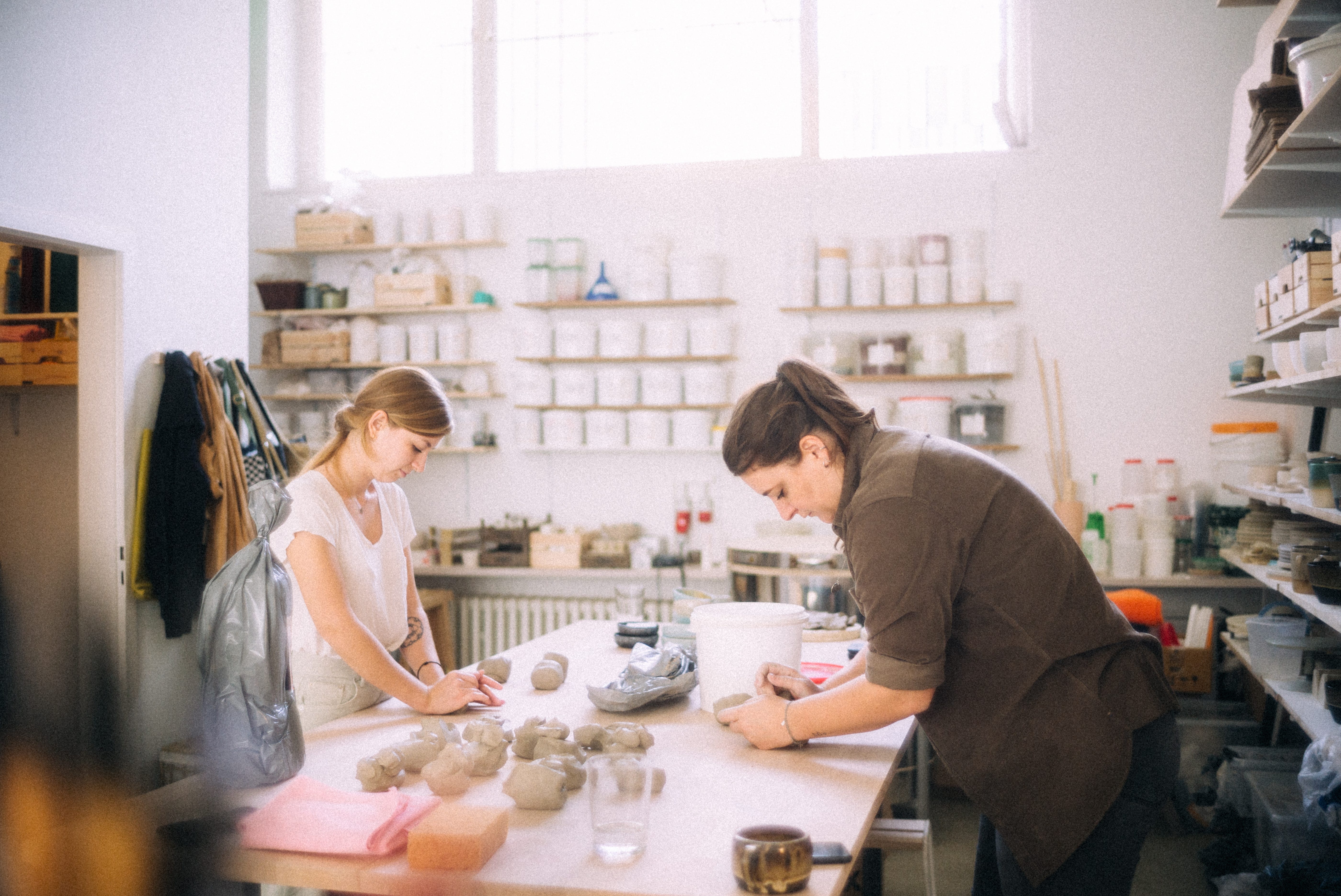 The largest ceramic community studio in Germany.
With our 160sqm we have created space for both pottery on the wheel and handbuilding at the table. Our goal is to work with international ceramic artists to offer you the best teachers and the greatest ceramic knowledge.
160sqm fully equipped pottery workspace
7 days a week unlimited access between 7am and 11pm by your own member chip key card
12 Shimpo RK-55 pottery wheels
12 manual workstations including banding wheels
3 different stoneware clay bodies
over 20 powder glazes
regular firing of your ceramic pieces in to stoneware temperature
possibility to bring your own material
independent working
creative exchange with other ceramics enthusiasts
varying pottery classes and workshops
possibility to participate in in-studio markets and other events
And much more...
Whether you are a beginner or professional, we have designed our memberships to be as flexible as possible to fit your needs in a ceramic workshop.
With an All In Ceramics membership you have access to the studio during all opening hours.
The Day Time membership allows you a more cost-effective option for the morning hours during the week.



You determine the duration of your memberschip.
This is what is included in all memberships:
independent access to the studio with your own member chip key card
2.5kg of clay of your choice per month
welcome goodie bag with 8 pottery tools
monthly bisque and glaze firing of 3 standard ceramic pieces
storage space for your pottery on community shelves
optional rental of your own shelf space
membership discount on pottery classes and firing services
Please note that basic pottery skills are required to start a membership.
Terms & Prices
You can choose between a Day Time and an All In membership.

Day Time Membership: Access to the studio from Mon-Fri 7am to 2pm
All In Membership: Unlimited studio access Mon-Sun 7am to 11pm
1 Month
Day Time 139€/month*
All In 219€/month*
3 Months
Day Time 129€/month*
All In 199€/month*
6 Months
Day Time 119€/month*
All In 179€/month*
12 Months
Day Time 109€/month*
All In 159€/month*
Our Classes, Workshops and Events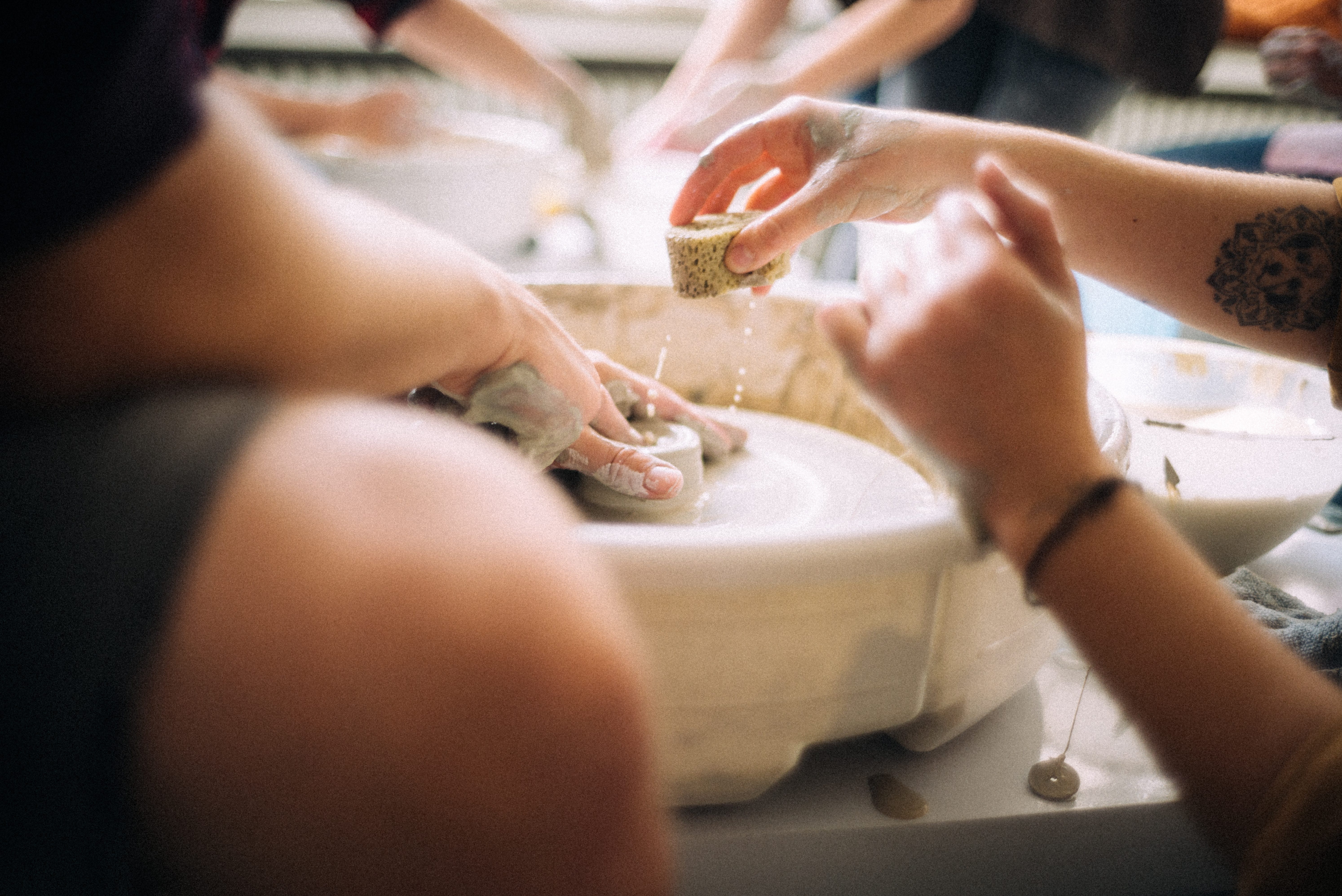 Introduction Class Wheel Throwing
Want a taste of what its like to be a ceramicist? Our introduction class lasts about 3 hours. Here we teach you the basics of pottery on the wheel and you can of course try it yourself. With two teachers we are always available with advice and support to make the most of your pottery class.
You can choose a glaze color for your pieces and we will finish them for you afterwards. You can then pick them up within 4-5 weeks or we send them by mail (plus shipping).
All pieces are food safe. Usually you will make 2-5 pieces.

The introduction class costs 150€ per person.
Two Days Wheel Throwing Workshop
Our two days workshop includes a total of 6.5 hours over 2 days + one optional evening for glazing. On the first day you will learn how to throw on the wheel and produce pieces and work independently as well as finish the produced goods.
On the second day you can deepen your learned skills and produce more pieces.
Your pieces will dry for about 1-2 weeks. On an additional evening you are welcome to come and glaze your pieces yourself.
Alternatively, we offer to glaze your pieces for you and they can be picked up within 4-5 weeks or I will send them by mail (plus shipping costs).

The workshop costs 250€ per person.
Ceramic Handbuilding Event
Our Ceramic Event is a private happening for closed groups of 6 or more people - the perfect event for bachelorette parties, corporate events or a leisurely day with the family.

The Ceramic Event lasts about 2.5 hours. Here we focus on the handbuilding technique at the table. You will make bowls, plates, candlesticks, soap dishes and much more. Usually our students produce about 2-5 pieces each. We will finish your pieces with your desired glaze and you can pick them up within 4-5 weeks or we send them by mail (plus shipping costs).

The ceramic event costs 100€ per person. Bookable for private groups of 6-15 persons.
Prices & Bookings
You can book our classes yourself with our booking tool. The calendar always shows only the current booking period. If no free dates are shown in the calendar, the month is unfortunately fully booked! We post all important news and informations on Instagram and also always here on the website.

The new dates for April and May will go online at the end of March.

All materials and the firing of your pieces as well as tea, drinks and cookies are included in the price.
For the ceramics event we will serve 2 bottles of sparkling wine on top. :)
Introduction Class Wheelthrowing



One time 3h
About 2-5 finished pieces
A glaze of your choice
150€ per person
Two Days Wheelthrowing Workshop

2x 3h and 1x 1h
approx. 3-6 finished pieces
free choice of glaze
250€ per person
Ceramic Handbuilding Event
for closed groups

One time 2,5h
About 3-10 small pieces
Free choice of glaze
100€ per person
There are still too many vouchers in circulation and we cannot guarantee a place for everyone, so we have decided to stop selling vouchers.
We recommend to get out the good old crafting scissors again and make your own voucher for the beloved person. :)
Please note:

Our studio is often visited by our little dog Kiwi. If you are afraid of dogs, please let us know in advance so that we can make the class as pleasant as possible for everyone.

Please wear appropriate clothing as chances are you might get some clay on them.
Don't worry, the will come out in the washing machine.
Short fingernails make learning much easier..

The ceramics events take place at The Clay Company Studio at Schinkelstraße 65, 40211 Düsseldorf. The pottery classes all take place at The Clay Company Club on Wielandtrsaße 52, 40211 Düsseldorf.