Unsere Guest Teacher in der The Clay Company
In der Clay Company bieten wir externen Keramik Lehrern die Möglichkeit, ihr Wissen an die Community weiterzugeben.
Alle Infos zu den Kursen und wie Du einen buchen kannst, findest Du unten.
Bitte beachtet, Gutscheine von The Clay Company, Pottery.Hontas oder Studio Starke sind für die Guest Teacher Kurse nicht einlösbar.



2-tägiger Dreh Workshop
mit Lisa
- deutsch sprachiger Workshop


Lisa ist Keramikerin und Wirtschaftspsychologin. Seit 2015 ist sie fasziniert vom Ton und der Vielfältigkeit des Töpferhandwerks. In Werkstätten in Dänemark, Lettland und Spanien konnte sie mit international bekannten Keramiker:innen zusammenarbeiten und von ihnen lernen. Ihr Wissen und ihre Leidenschaft teilt sie in Workshops für Anfänger und Fortgeschrittene.

Lisa bietet im The Clay Company Community Studio einen 2-tägigen Workshops an der Drehscheibe an. Der Kurs findet an zwei aufeinander folgenden Tagen statt und umfasst insgesamt 6 Stunden. Am ersten Tag 3,5h und am zweiten Tag 2,5h.
Optional kannst Du noch einen Glasur Workshop nach ca. 3-4 Wochen besuchen (ca. 1h - 15€ zusätzlich).

Die 2-tägigen Workshops (6h gesamt ohne Glasur Workshop) mit Lisa kosten 265€

www.lisaseeberger.com
@lisaseebergerceramics
2 Day Wheel Throwing Workshop with Horta
- english speaking workshop

Horta is a pottery artist from Brazil with a focus on natural and experimental ceramics tableware production using different shapes, neutral colours, and textures.


In this two-day pottery wheel workshop (7h in total), Horta will guide you through personalised instruction and practice, helping you gain a solid foundation of confidence in pottery wheel techniques and creating unique shapes and designs. You will learn the fundamentals of working with clay on the wheel, including centring, shaping, trimming, and finishing techniques.

The 2 day (7h in total) Workshop with Horta costs 280€

www.hortaceramics.com
hortaceramics@gmail.com
@hortaceramics


2 Day Tortus Workshop
Eric Landon from Tortus will be visiting The Clay Company Community Studio in September!
This is a listing for a 2 day workshop. The workshop will run from 9am to 4 pm on both days.
This special TORTUS 2 day workshop is open to all levels. In the mornings you will be given a thorough introduction to the techniques that Eric Landon uses to get most out of the clay with a focus on efficiency and precision at the wheel. The workshop is hands-on where you will be practicing the techniques under the guidance and supervision from Eric himself. He will also be giving many demos throughout the two day workshop.


Course instructor: Eric Landon
Course objective: improve your technique, precision and efficiency
Previous knowledge: a little bit of clay experience is recommended but not necessary.
Course dates: 31.08.-01.09. 9am-16pm or 02.-03.09.9am-16pm
Course duration: 2 days
Number of participants: maximum 12
Language: English
Course costs: €450,00
Includes: electric potter's wheel, tools, apron, lunch, drinks
Exclusive: glazing, firing, costs for shipping
Cancellation policy:
Cancellations more than 30 days before the start of the workshop can receive a 50% refund. No refund will be possible within 30 days of the start of the workshop.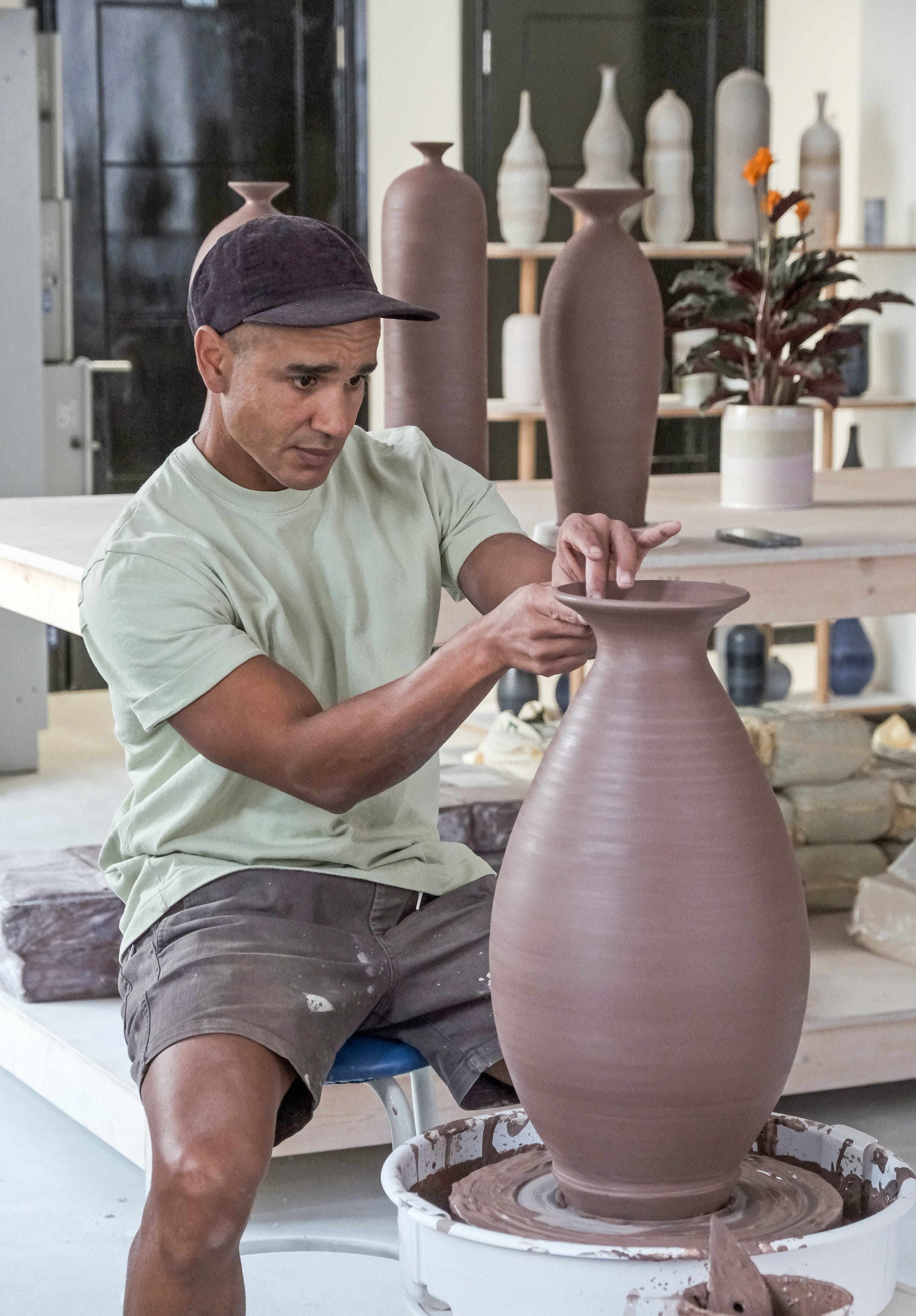 Du möchtest unterrichten?
Hast Du Lust dein Wissen an die Community weiterzugeben? Möchtest Du gerne Kurse geben aber hast nicht die Location? Melde dich bei uns.